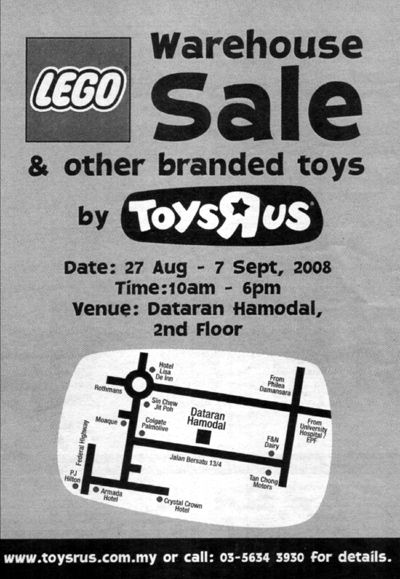 For all you Malaysian Klang Valley Lego fans out there, if you want to hunt for some good bargains of Lego set goodies, then head over to the 2nd Floor of Dataran Hamodal, along Jalan Section 13/4 (near Jaya Section 14), Petaling Jaya, as there will be a Lego Warehouse Sale going on!

That's right, from the 27th August to the 7th of September 2008, open from 10AM to 6PM daily!

So you have under 2 weeks to visit this Lego Sale but as we have seen before in other Lego Sales, most good sets are gone in the first few hours - speak nothing of days! However, the local Lego distributor have been wise to this problem and these days tend to release sets in batches, so if you're only free on the weekend or next week, don't worry too much, you might still have chance!